"We will prepare your car for bivy"
BivyCar is a brand of Crazy Is Life. Within its scope we design and create interior equipment of campers and vans. Moreover we can implement electronic improvments to your car, like: solar panels, leasiure batteries, usb chargers, auxiliary heating and many more.
Goal of BivyCar brand is to adjust your car for bivy!
My Van
From the very beginning I knew what car would be the best for my van. I was absolutely sure I wanted to buy Volkswagen T4 Multivan. After a few months of searching, I finally found My Van. It is VW T4 Multivan with 2.4D (2.4l diesel) engine, maybe it is not modern but still in fantastic condition!
Main reason for choosing the VW was that I wanted to have universal car in compact size. Due to smart solutions of VW used inside I can very quickly (just 5 minuts needed) transform my van from 7 seats kombi to 2 seats cargo van or with using self-made interior equipment to camper van. It means that my van is like 3in1. All the time I'm very happy with my choice.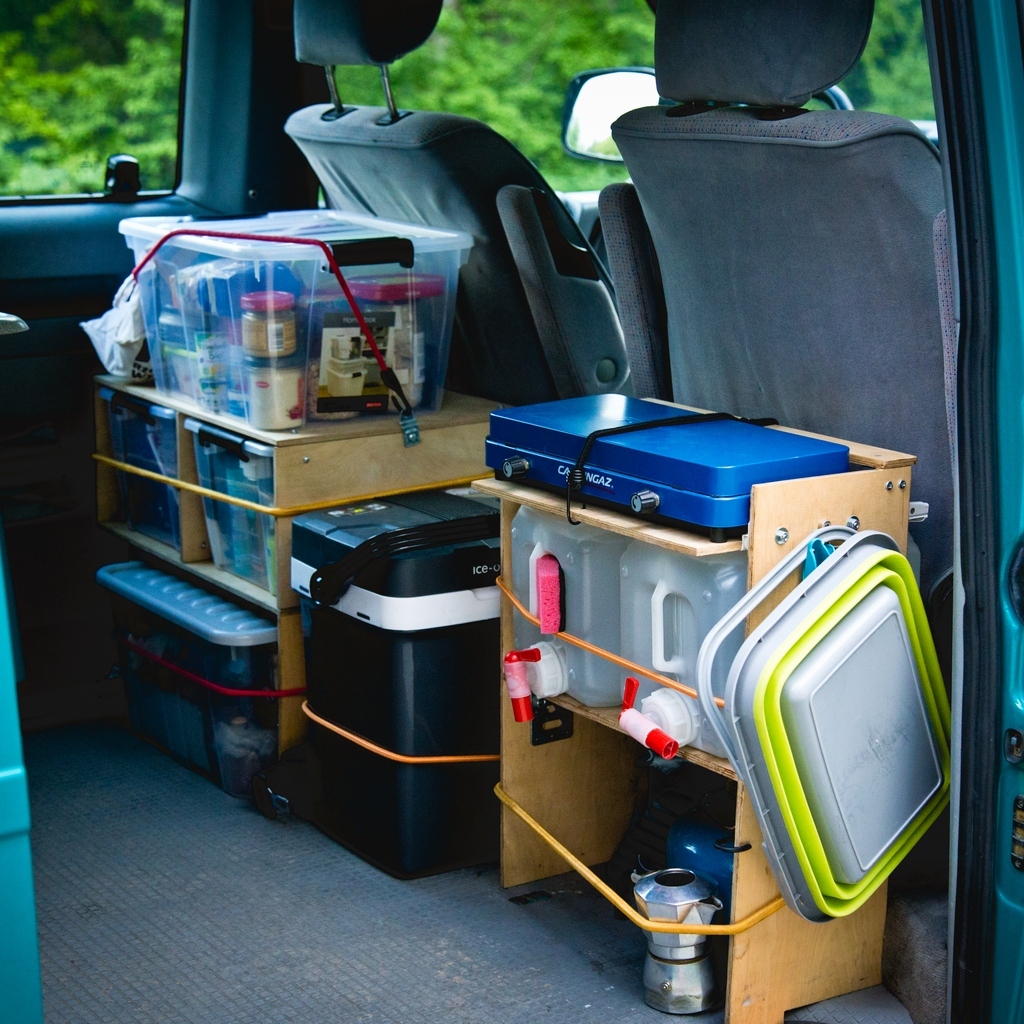 Interior Equipment
In order to adjust space inside my van for long trips I made by myself 2 plywood cabinets. The first one is equipped with gas stove and 2x10l tanks for water. A gas cylinder is placed underneath it. The second one was designed for storage cosmetics, food, cooking pots and other kitchen accessories. It consists of 2 shelves where plasic boxes are placed. Inside the boxes I store all my things which is very good solution. Between the cabinets is enough space for small frigde (Yeticool bx30) which is an additional store for food.
In rear part of the van I placed tourist shower which is very helpful for long trips.
Shower Room
As I mentioned in the text above I placed the tourist shower in rear part of the van. It is located close to the window so many times water is warm enough for take a shower.
The shower is 7l tank with own manual pump. I bought it in Decathlon and I really recommend it. The amount of water is enough for 2 persons.
In order to make shower time more comfortable I made by myself a shower room. To do this I used a trunk lid of van and ordinary shower curtains. The shower curtains are fixed by snaps to trunk lid and can be easily unfixed and hide to cover.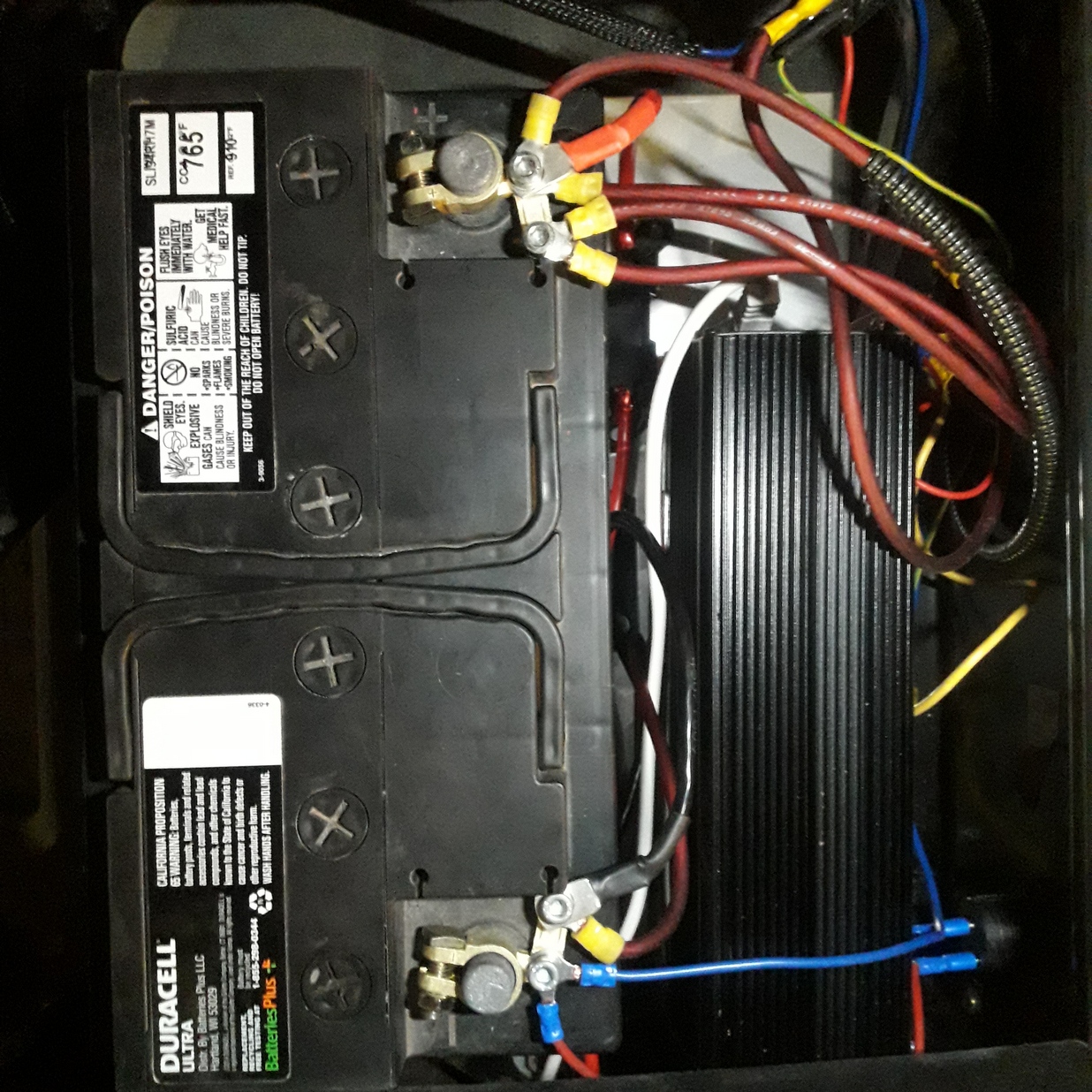 Leasiure Battery
It is an additional baterry placed under driver seat in my van. The battery has 80Ah and its purpose is to power fridge, auxiliary heating, DC/AC converter and other electronic gadgets like smartphone, camera, watch, etc. While the engine is turned off then the leasiure battery is totaly separated from main battery of the van. Therefore, I can be calm about the condition of the main battery. I mean, even if the leasiure battery is dead then the main battery will be sill in good condition and I will be able to start engine. All the time the leasiure battery is charged by solar panels (of course during a day), moreover is is charged by alternator while the engine is turned on.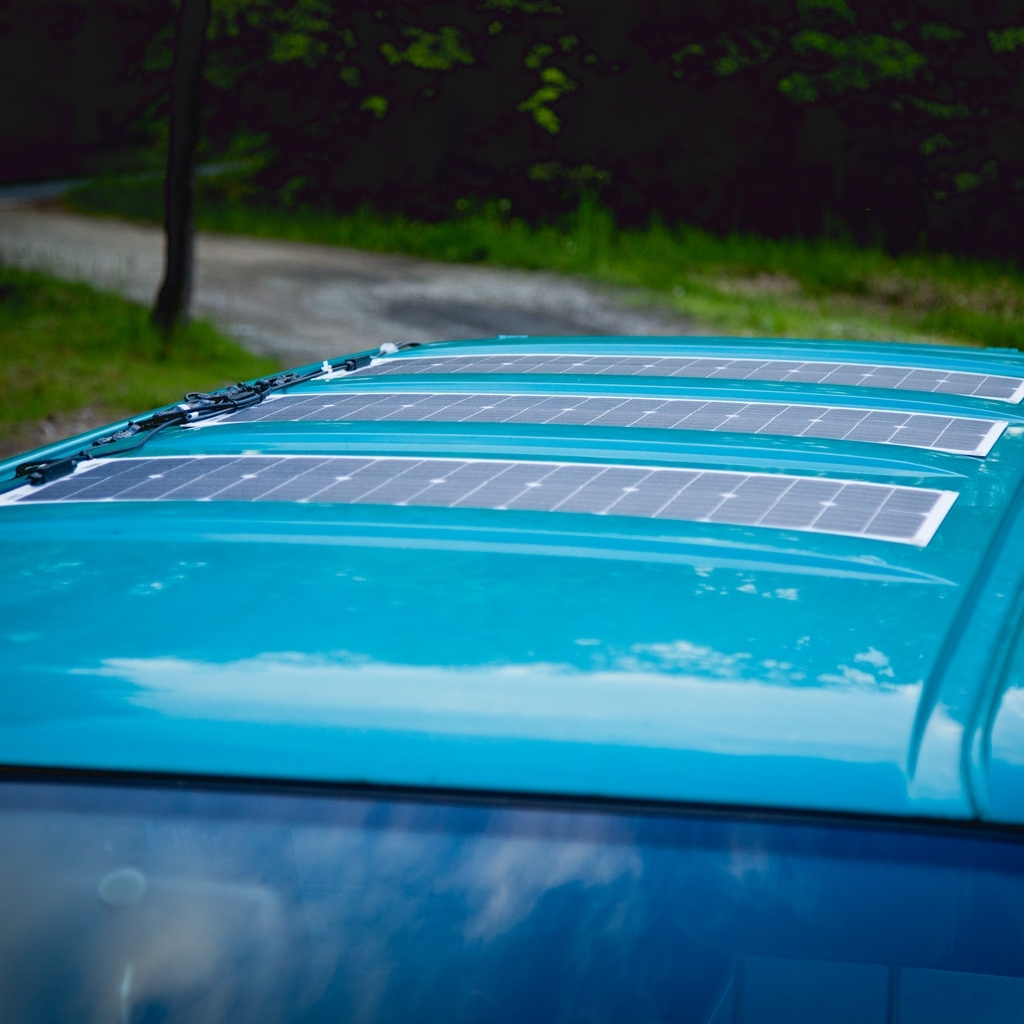 Solar Panels
In order to charge the leasiure battery I pleace on roof of my van a solar panels. I used 3 elastic solar panels which perfectly fit to roof surface of the van. Each panel generate maximum 50 Wats of electricity power, thus all 3 generate 150 Wats. They are connected to solar controllers which is the link between solar panels and leasiure battery. It helps to proper menage electicity power from solar panels in order to charge leasiure battery as best as possible.